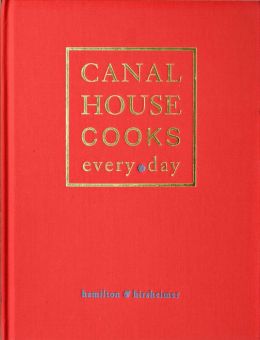 Yesterday, on the Tenth Day of Christmas, we introduced you to Eat Your Books and its List of Lists of 2012 Best Cookbooks, offering you the chance to win the #2 cookbook on that list.
Today we're featuring another list of lists: Eater's "Meta Listicle of Listicles" of 2012's Best Cookbooks. And again, we're buying a copy of the #2 cookbook on the list to give away to one Cooks&Books&Recipes reader. This time the lucky winner will receive Canal House Cooks Every Day, by Christopher Hirsheimer and Melissa Hamilton (Andrews McMeel).
The award-winning authors of the Canal House Cooking series offer their first comprehensive collection of recipes by home cooks for home cooks. This magnificent compilation celebrates the everyday practice of simple cooking and the enjoyment of eating — two of the greatest pleasures in life. Christopher Hirsheimer and Melissa Hamilton's new cookbook Canal House Cooks Every Day, inspired by their popular daily blog Canal House Cooks Lunch, offers a year of seasonal recipes for the home cook.

Canal House Cooks Every Day is a handsome, red cloth-covered, 384-page book with nearly 250 recipes and over 130 lush photographs and illustrations. Christopher and Melissa use the best seasonal ingredients available to cook every day. Their recipes reflect the seasons, their appetites, their cravings, the occasions, and/or the demands of feeding their own busy families. This instant classic includes recipes for dishes as simple as a lunch of splendid summer tomato sandwiches or crackers spread with preserved lemon butter with smoked salmon and fresh chives, to more complex meals like braised chicken with wild mushrooms and fine egg noodles.

In addition to the recipes, the cookbook includes menus for all the great holidays throughout the year, plus twelve intimate essays — on picking a ripe tomato, making your own pasta, or foraging for wild mushrooms — that introduce each month and capture the feeling and vibe of that special time of the year. Cooking through this book, readers will become better cooks and gain an increased appreciation for the wonderful flavors and aromas of a home-cooked meal.
Notes: There are six ways to enter the giveaway, but it's not necessary to do all six entries. Choose whichever one(s) you like, and you'll be entered in the giveaway. Giveaway ends at midnight (EST) on Sunday, January 13, 2013.
a Rafflecopter giveaway

Looking for other 12 Days of Christmas Cookbook Giveaways?
Day 1: Betty Crocker: The Big Book of Cookies
Day 2: 150 Best Grilled Cheese Sandwiches
Day 3: Allergy-Friendly Food for Families: 120 Gluten-Free, Dairy-Free, Nut-Free, Egg-Free, and Soy-Free Recipes Everyone Will Enjoy
Day 4: Rustic Italian: Simple, Authentic Recipes for Everyday Cooking
Day 5: I Love Cinnamon Rolls!
Day 6: The Mom 100 Cookbook: 100 Recipes Every Mom Needs in Her Back Pocket
Day 7: 150 Best Cupcake Recipes
Day 8: Southern Living's Rotisserie Chicken Cookbook: 101 Hearty Recipes with Store-Bought Convenience
Day 9: Mini Treats & Hand-Held Sweets: 100 Delicious Desserts to Pick Up & Eat
Day 10: The Smitten Kitchen Cookbook
Disclosure: Cooks&Books&Recipes receives books for possible review, though we make no promise that all books received will be featured. We highlight only those cookbooks that we feel will interest our readers. For this giveaway, we are purchasing a copy of the book from the publisher. We received no monetary compensation for our review or giveaway.